Backyard Bookie
presented by


We compute entertainment!
Main Window Backyard Bookie makes betting fun. Itís easy to move around from window to window using the main menu, the pull-down menus, or the top toolbar.

Backyard Bookie has a fully functional Help system. Just click the Help button or press F1 to pull up specific instructions on how to use each window in the program.

Although patterned after tote boards at horse racing venues, Backyard Bookie is flexible enough to handle pari-mutuel betting for any type of multi-competitor competition. There are no practical limits to the number of competitors in a race or competition and no practical limit to the number of bettors or bets.
Race Card Setup
You start out by setting up the "Race Card". You can include one race or a whole day of races (up to 20) in any one Backyard Bookie file.
Use the General Setup tab to tailor the use of Backyard Bookie for your pool. Here you can decide what information you want to keep about racers or competitors and whether or not to print tickets for bets that are taken.
With the Race Defaults and Race Setup tabs, you can tailor the betting and payouts for each race in your file. You decide what the minimum bet and payouts will be, how much will be held back by the "house", which type of bets will be valid, and how winnings will be rounded.
Backyard Bookie handles all of the most popular bet types, including Win, Place, Show, Exacta, Trifecta, Daily Double, and Pick 3 thru Pick 6.
On the Racer Setup tab, you input the names, numbers, and "handicapper's odds" for each competitor in the race or competition. (Updating the horse name on the "Racer Setup" tab is only allowed with the Premium Edition.)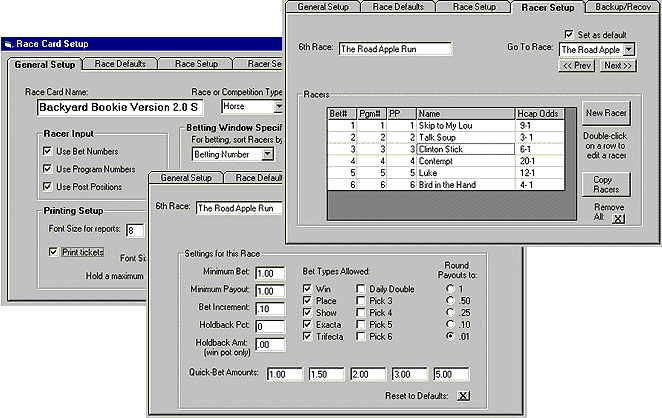 Bettor Information

Backyard Bookie lets you keep track of information about each bettor that participates in your betting pool, including his or her name, phone number, e-mail address. Keeping this information is optional. In fact, if you wish to use paper tickets instead, you do not need to track even the name of the bettors.
Betting WindowThe Betting Window is a collection of windows that let you easily cash, collect, or place new bets with ease.

The Transaction Summary window summarizes all of the activity for a bettor during one trip to the betting window. A bettor can place bets on one or more races and then cash tickets from completed races all in one trip. The totals are summarized and the amount that is finally collected or paid to the bettor is recorded in your Backyard Bookie file.

Bets can be placed either with a few clicks of the mouse or, for those who prefer, with the keyboard. Enter the amount of the bet (or click one of the pre-set bet amounts), choose a bet type, and then record the picks.

You can add multiple bets to a ticket. You can "box" exacta and trifecta bets. You'll think that you are really at the race track!

Cashing tickets is easy. Backyard Bookie shows you any tickets that are not "settled up". You can even show just those bets for one individual bettor so you can settle up with him or her all at once. Cash one at a time, or select a group to cash all at once!
| | |
| --- | --- |
| | Display OddsAfter you've taken some bets, Backyard Bookie computes the odds for Win, Place, Show, Exacta, and Daily Double bets. Odds can be displayed on one part of the screen in an "auto-run" mode, which keeps the odds updated every few seconds. Watch the odds change almost instantly as you enter new bets! |
| | |
| --- | --- |
| Just like a race track tote board, you can set the odds display to scroll through each type of bet automatically. Backyard Bookie displays the betting pool totals, odds for win, place, show, daily double, and exacta bets. | |
| | |
Enter Results and Calculate the Payouts

When the race is over, enter the order of the finish. Within seconds, Backyard Bookie computes the payouts for each type of bet. Or, if you prefer, you can enter your own payout amounts, such as the official track payouts. Either way, Backyard Bookie automatically computes how much is due back for each winning bet.
Cash the Tickets

Every winning bet stored in your file is immediately updated with amount won. No need for you to do any calculations. Go back to the Betting Window to cash the winning tickets now, or wait until the end of the day and cash all of the tickets at once.
Still not convinced?
Try our free trial download and you can see for yourself that Backyard Bookie is the best Pari-mutuel Software package available today!
Backyard Bookie!


Great for parties, the office, and charity events!
Start the fun today!